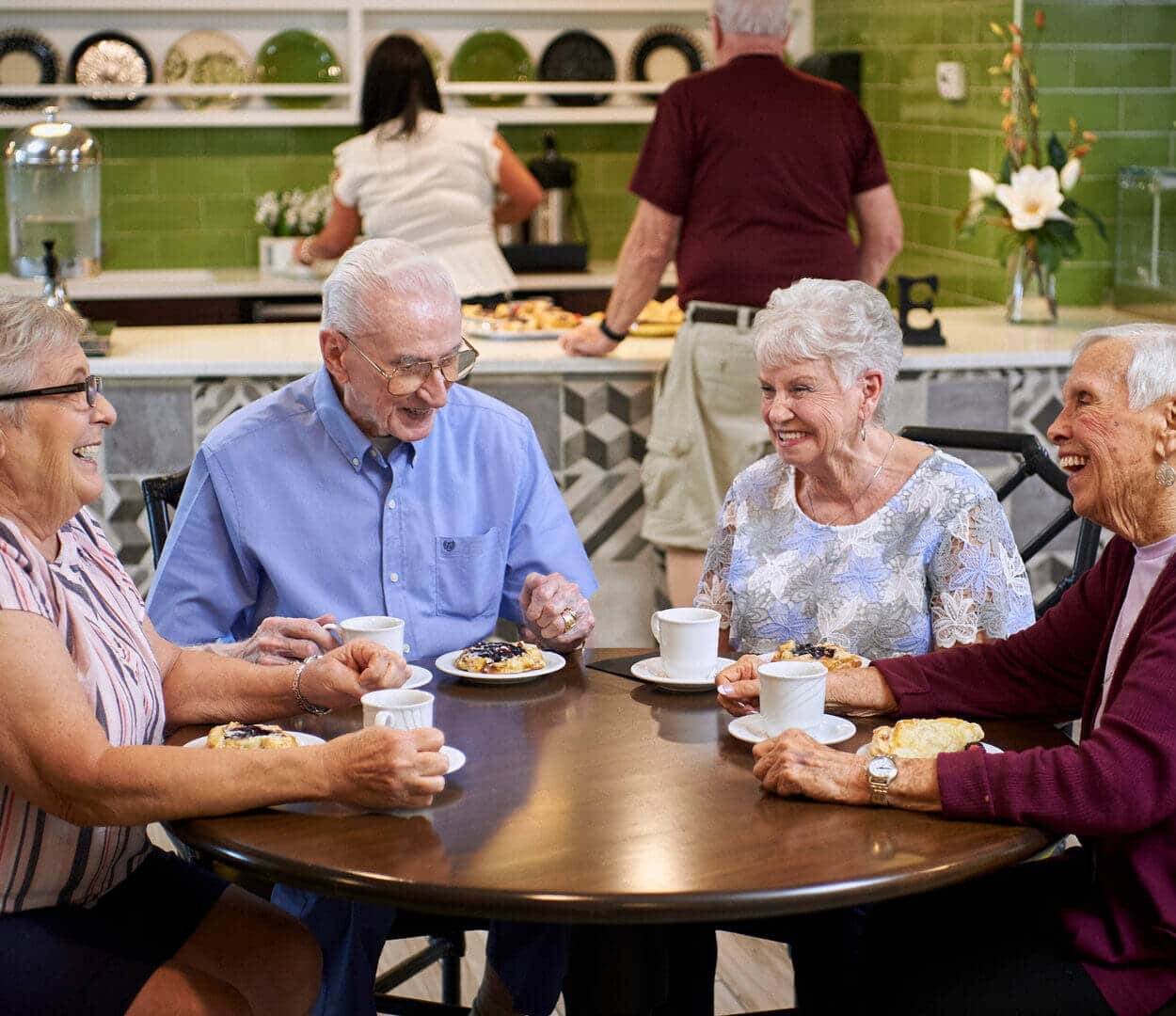 Lifestyle
Vibrant living filled with continued growth.
Find everything you've been looking for in a resort-style retirement home within our picturesque lakeside campus – engaging activities, chef-prepared gourmet dining, wellness programming and a high-quality continuum of care. Every space at Renaissance North Tampa was created to inspire a true sense of community and belonging. And every part of what we do encourages safe, healthy living so that it's more rewarding than ever to age successfully with all the comforts and upscale conveniences of your enjoyable new home. Choosing the ideal senior living community for you or a loved one is one of the most important decisions you can make in life. Our checklist details everything you need to look for when comparing different communities.
Where you want to be.
Contemporary aesthetics and bright, open spaces create a dynamic, welcoming retirement home. Our beautiful 12-acre campus — set adjacent to a large lake — boasts a wide range of opportunities for outdoor recreation and enjoyment, with additional gathering spots around our sunny lanai and sparkling pool. These many features, along with convenient highway access via highway 41 and several nearby medical centers, put Renaissance North Tampa in a category to itself as a premier, upscale retirement home offering independent living, assisted living and memory care options for area seniors.
What is an entry fee, or buy in?
An entry fee is a large, lump-sum payment made to a community upon move-in to cover costs associated with the residence, comprehensive services and amenities, and future long-term care. Typically, this sum is partially refundable to an individual or their estate after residency ends. Renaissance North Tampa instead operates as a rental community, providing all the above but without requiring a large upfront entry fee or long-term contract.
Which utilities are included?
All utilities as well as Wi-Fi and basic cable are included. Telephone service is not included.
How does continuing care at Renaissance North Tampa benefit me and my loved ones?
Residents here know they'll have access to quality services and first-class amenities to accommodate both their current and future lifestyle, preferences and needs. Our on-site assisted living, memory support, respite care, and other therapeutic and support services mean you don't have to worry about the "what-ifs" of life. As with many sensitive topics, beginning the discussion about moving to a retirement community is often the hardest part.
What is the advantage of on-site care?
Residents in need of additional services in assisted living or memory care don't have to worry about where to go, how much it will cost or the quality of care. Instead, their needs can be accommodated in a place that's comfortable and familiar. When one spouse needs care, the other won't need to travel or change addresses to stay nearby. And for individuals who need support while recovering from an injury or illness, we will provide short-term respite care stays.
What does Renaissance North Tampa offer that's different than my current residence?
Residents of Renaissance North Tampa find that they worry less and smile more. Your health and safety are always top priority here, and your needs are taken care of if you feel more secure staying in. With increased opportunities to get involved and convenient access to so many amenities, residents can share in experiences and spend time with other seniors without feeling isolated. Plus, our dedicated staff caters to residents' every need and treats them like family.