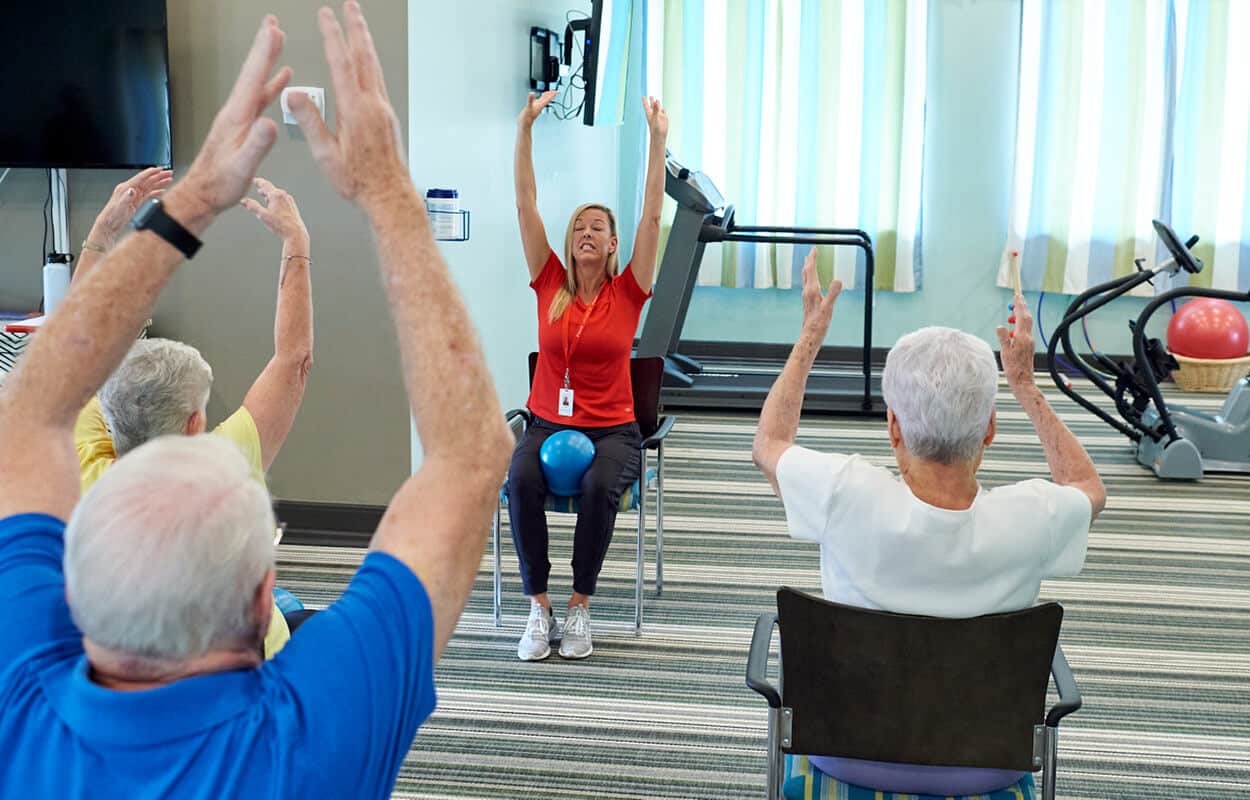 How Does Exercise Improve Whole Body Wellbeing
The benefits of physical activity for senior health.
Exercise is important for everyone's whole-body wellbeing, no matter their age. Even though we don't have the same stamina and agility we had in our younger years, being active is more important than ever as we get older. By taking part regularly in some form of exercise, even low impact, seniors can increase flexibility, reduce pain and joint stiffness, improve balance and mobility, and even improve their mood.
A Holistic Approach To Aging.
The Centers for Disease Control and Prevention (CDC) has determined that all older adults can benefit from regular, moderate physical activity – even people with medical conditions including arthritis, heart disease, obesity and high blood pressure. It's also been shown that remaining active in our older years not only positively impacts physical health but also mental and emotional wellbeing – and it's never too late to start.
Here are a few of the ways exercise can improve the overall health of older adults:
Reduction in Cognitive Decline: Physical activity has been shown to improve cognitive function, which could help those with early signs of Alzheimer's or other forms of dementia. A particularly encouraging study found that participants over the age of 60 showed fewer Alzheimer's disease biomarkers when they performed 30 minutes of exercise every day.
Maintain Function & Prevent Falls: Lack of muscle strength impacts mobility and other types of daily function, whether carrying a grocery bag or stepping onto a curb. According to the National Institute on Aging, even very small changes in muscle strength can make a big difference in function, especially lower body strength exercises, which can improve balance and prevent falling and resulting injuries.
Reduction of Hypertension: Exercise is medically proven to help lower blood pressure. Adding 30 minutes or more of moderate aerobic exercise, five times a week will measurably reduce blood pressure, lower stress and decrease the risk of certain cardiovascular problems.
Prevention of Bone Loss: Both men and women lose bone density as they age, with post-menopausal women losing up to 2% each year. Exercise works on bones much like it works on muscles – by making them stronger, which can lead to fewer fractures and also aid in balance.
Cardiovascular Health: Frequent physical activity can reduce the risk of heart disease and enhance your cardiovascular health. Although underlying heart conditions and hereditary diseases will not go away as a result of exercising, staying active can still help maintain a higher quality of life.
Improvement of Mood: Exercise is shown to help fight depression when muscle-generated mood boosters (endorphins) become active. In this way, physical activity helps with symptoms of anxiety and depression, and encourages a sense of wellbeing. Studies have shown that the mood-boosting benefits of exercise continue well into older age.
With a wide variety of exercise classes offered throughout the week, a beautiful outdoor swimming pool and variety of senior-friendly exercise equipment available for workouts, you can easily find time for fitness and physical wellbeing at Renaissance North Tampa.